Schedule a casual 45-minute video meeting with our specialist during which we'll:
We specialize in a comprehensive approach to digital marketing 
aimed at acquiring customers from local and foreign markets.
Tomasz Chaciński
Worksmile.com Cafeteria System
"Freshview has been managing our Google Ads campaigns: Search, Display and Youtube Video. On behalf of our team, I can confirm that we are satisfied with the cooperation."

Daniel Urbaniec
IRMAR car service
"Freshview is very transparent when it comes to SEO - this is especially important when pay for link building. Our cooperation turned out to be a great decision."

Jacek Dyląg
"Fearless Sound Hunters" Production Studio
"Our cooperation was very smooth. Freshview agency provided us with help and advice in selecting practical internet solutions. We recommend Freshview team with pleasure."

Joanna Wesołek
Multilampy.pl Online Store
"Freshview is a reliable partner that helped us with marketing in our online store. (..) We were particularly happy with a great relations with our designated coordiantor ."

Waldemar Wilkołaski
Vetamicor Veterinary Clinic
"Freshview is a relialbe partner when it comes to SEO services. I could definitely notice a big increase in the number of clients in my office."
Karolina Michalska-Bałaga
Vital-Dent Dental Office
"During our cooperation the organic traffic has been steadily increasing. Freshview has also been successively managing our Google Ads campaigns."
Contract with a one-month notice period
We don't bind you with a fixed-term contract.  All of our agreements include one month's notice. You can resign at any time. We are sure of the quality of our services.
Ambitious, realistic goals
We run campaigns in difficult industries. When we see that a potential client has a budget that is too small to achieve his goals - we try to find an alternative solution.
All of our services are very transparent. In the reports that we send every month, you will receive a list of obtained links, description of all the on-site optimizations, list of all the content that we created and a detailed trafiic analysis.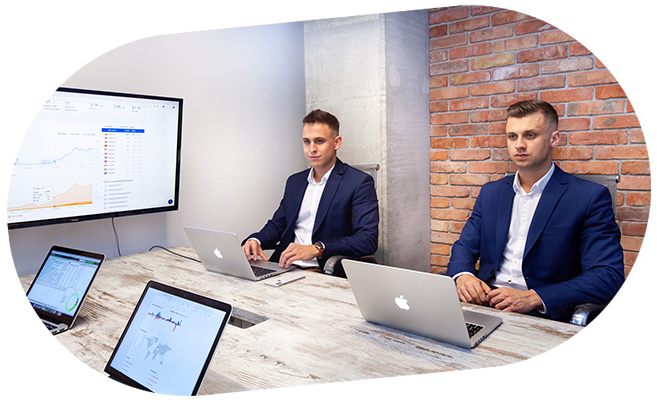 Freshview Marketing Agency
As a specialized marketing agency, for over 7 years we've been helping our clients from all over the world to increase sales, acquire new leads, strenghten their position or introduce a new brand to the market.
We specialize in increasing organic trafiic through Search Engine Optimization (SEO), run effective PPC campaigns and boost interest in brands using engaging social media content.
Every marketing decision is made with our clients' business goals in mind. All campaigns are coordinated by people with business and marketing experience which allows us to select the most effective strategies.
Tools that help us work more efficiently